Mervent-Vouvant : Foussais Payré-La Plaine
Responsabilité du randonneur
The list of itineraries is a simple listing of trails open to horseback riders.

It is necessary to check the usability of these trails with the organisation that manages them (Town or Departmental Council).

Reminder: Riding can be dangerous on the trail.

You should always be in control of your horse and adapt your behaviour and your gait to the environment.
Didacticiel des cartes
click on icon (waypoint)

The click on icon shows a popup  that gives you details and information about different accommodations and equestrian centres.

 

 

 

Click on the departmental route

Click once on the departmental route to access to a button. Click on the button to view  the page of the corresponding path. 

 

 
Car park address at starting point:
Car park of the town hall of Foussais Payré
Description:
IGN map 1527 O
Easy trail.
The dense forest is marked by a horseshoe. The direction of the horseshoe indicates the direction to take.
As the forest is closed to carriages without prio authorization, they can paticularly use this itinerary. It is also available for riders.
Remarkable sites: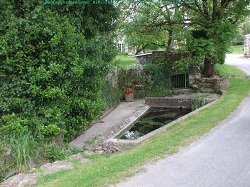 Le Fief Foussais fountain/wash house