Mervent-Vouvant : St Luc-Les Minières-La Balingue
Responsabilité du randonneur
The list of itineraries is a simple listing of trails open to horseback riders.

It is necessary to check the usability of these trails with the organisation that manages them (Town or Departmental Council).

Reminder: Riding can be dangerous on the trail.

You should always be in control of your horse and adapt your behaviour and your gait to the environment.
Didacticiel des cartes
click on icon (waypoint)

The click on icon shows a popup  that gives you details and information about different accommodations and equestrian centres.

 

 

 

Click on the departmental route

Click once on the departmental route to access to a button. Click on the button to view  the page of the corresponding path. 

 

 
Car park address at starting point:
Other car parks:
Route de La Balingue and allée du Brûleau intersection
Description:
IGN map 1427 O
Very difficult trail, some passages are complicated.
Constitué de deux boucles, cet itinéraire propose une partie roulante au nord, 2 gués et 3 forts dénivelés. Il est possible de pratiquer les 2 boucles séparément.
On the map, 2 detours are specified in cases where the fords are impassable.
Caution : ford hight varies according to the season, the dam activity and during heavy rain.
The dense forest is marked by a horseshoe. The direction of the horseshoe indicates the direction to take.
As markings aren't numbered, it's better to have a map because some intersections might take you to other itineraries.
Remarkable sites: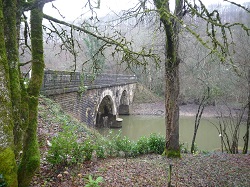 Dangerous areas, restrictions: